Having an effective SEO content marketing strategy is crucial for driving traffic, leads, and sales. By optimizing your content for search engines and creating valuable, engaging content for your audience, you can connect with more qualified prospects.
Thank you for reading this post, don't forget to subscribe!
Here are some top SEO content marketing tips and tricks:
Focus on intentdriven keywords.
Research keywords that align with buyer intent and the topics your target audience is searching for. Optimizing for these terms will help you rank higher and attract ideal prospects.
One of the most important tips for SEO content marketing is to focus on intent-driven keywords. These are search queries that demonstrate a user's intent and where they are in the buyer's journey.
For example, someone searching "how to lose weight fast" is in the early research stage. Whereas someone searching "reviews of Weight Watchers plans" is further down the funnel and comparing options.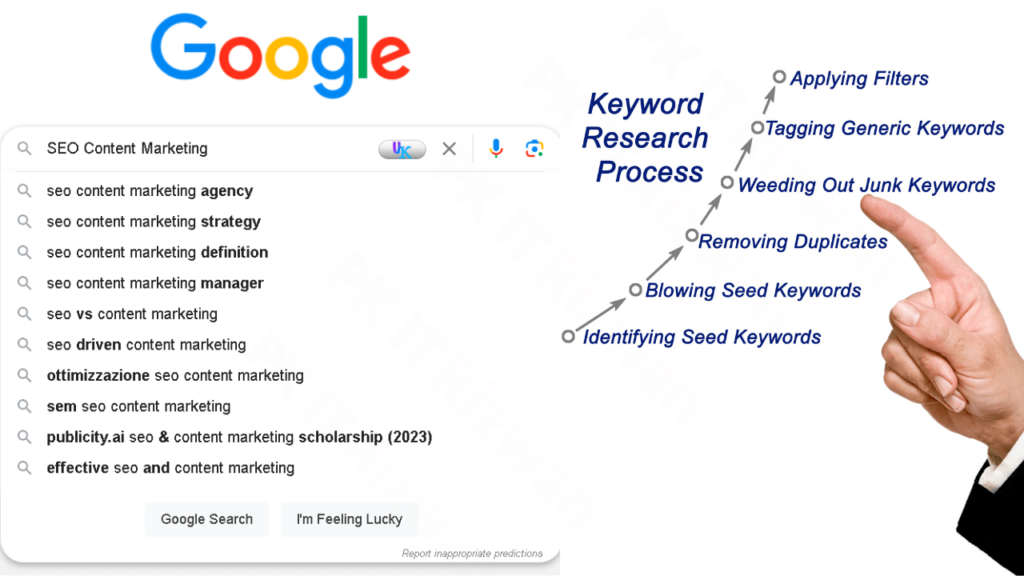 Research what keywords and phrases your target audience is using to find solutions to their problems. You can use Google's Keyword Planner and other tools to uncover this buyer intent data.
Look for long-tail variations of keywords as well, like "how to lose 20 pounds in 2 months." Long-tail keywords tend to have less competition and help you stand out more in search.
Once you identify relevant intent-driven terms, optimize your content for those keywords. Include them naturally in your title tags, meta descriptions, image alt text, headers, body content, etc.
Creating content around keywords people are actively searching for will help you rank for those terms. And reaching audiences at their exact moment of need during their buyer's journey is key for driving qualified traffic and conversions.
Create topic clusters.
Develop content around specific topics to own that SERP real estate. This allows you to strategically target related keywords and become a thought leader in your niche.
Another powerful SEO content marketing strategy is to create topic clusters or "pillar content" around certain subjects. This means developing a cluster of content all focused on one main topic.
For example, a personal finance site might have clusters on budgeting, investing, retirement planning, paying off debt, and more. The main pillar content would be an in-depth guide or extensive article on the topic.
Then they create surrounding content to support that pillar, like:
Detailed blog posts
Videos
Infographics
Email courses
Checklists/guides
Quizzes
And related content formats
Creating an entire cluster on a topic allows you to really own that section of the SERP. You can strategically target all the relevant keywords around that subject with fresh, valuable content.
When users search those terms, they will see your brand pop up multiple times in the results. And establishing yourself as a thought leader on these topics helps build trust and authority with your audience.
Topic clusters take time and planning, but they are an incredibly effective approach for SEO content marketing when done right. Own the SERP real estate around high-interest topics that align with your brand.
Prioritize quality over quantity.
Longform, indepth content tends to perform better in search engines than short, thin content. Produce highquality articles, videos, etc. that provide immense value.
When it comes to content marketing and SEO, quality trumps quantity. Creating high-quality, in-depth content should be the focus over churning out a high volume of posts.
Long-form content over 1,000+ words, such as detailed guides and extensive articles, tend to perform better in search engines than short, 300-500 word posts. The more comprehensive the content, the better chance it has to rank high and satisfy user intent.
Aim to create well-researched, insightful content that provides immense value to your audience. For blog posts, go beyond surface-level tips and dig deeper into topics. Format the content in a scannable way with headers, images, quotes, etc.
For videos, invest time in high-production value over quick selfie videos. Create videos over 10 minutes long packed with helpful info. Infographics and other visual content also tend to perform well when they avoid fluff and offer something substantial.
Spend time optimizing and promoting each piece of content vs. hastily publishing a high volume of posts. Prioritize publishing to a thoughtful, strategic editorial calendar over reactively posting about trending news for the sake of more content.
Quality content will engage your audience, help satisfy searchers' intent, build links and social shares, and establish authority in your niche. Focus on excellence over quantity.
Optimize Content for Voice Search
With the rise of voice assistants like Alexa and Siri, voice searches are growing rapidly. That's why it's important to optimize your content for voice search queries in addition to written keywords.
Focus on using natural language and long-tail keyword phrases in your content as people would speak them out loud. For example "what is the best exercise to lose belly fat" vs "lose belly fat exercise."
Feature Visual Content
Content that incorporates visual elements like images, graphics, and videos tends to perform better than text-only content. Posts with relevant images see over 90% more total views.
Visuals make your content more eye-catching and scannable to readers. Use original, high-quality graphics and videos that align with and enhance your written content.
Promote Content on Social Media
After publishing new content, share it across your brand's social media channels. This expands your reach to new audiences and gets more eyes on your content.
Promote content multiple times on each platform and re-share older evergreen posts. Insert relevant hashtags and tag influencers in your niche to spur engagement. Consider investing in social media ads as well.
Update and Refresh Old Content
Don't just let your old blog posts and web pages collect dust. Go back and update outdated statistics, studies, broken links, outdated advice, etc.
Refreshing existing content gives search engines new, relevant information to index. It shows users your content is still valuable and authoritative.
Link Internally
Use relevant anchor text and hyperlinks to connect new content back to older related posts on your site. This improves site structure and internal linking for SEO.
For example, linking from a new blog post back to an older in-depth guide on the same topic.
Build an Email List
Offer lead magnets like gated content, checklists or free trials in exchange for email signups. Building an email list helps nurture leads and continue marketing to them.
Send out regular emails to subscribers highlighting new content or promotions to drive traffic and sales.
Analyze Metrics
Pay close attention to all the data around your content – from views and engagement to conversions and ROI. This helps you identify what content resonates to do more of that, and refine areas that need improvement. Continually optimize based on performance.
Pairing strong SEO and inbound marketing techniques is key for ranking higher, driving qualified traffic to your site, establishing authority in your niche, and ultimately winning more business. Use these tips and tricks to take your SEO content marketing strategy to the next level.